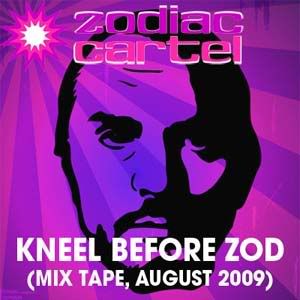 I was already a fan of Zodiac Cartel but this clinches it! I was alerted to this mix a few days ago and after listening to it...I had to pass it on.
It's got breaks, dub, fidget and loads more.
Kneel Before Zod (Zodiac Cartel Mixtape - August 2009)
Intro (Kneel Before Zod)
AC Slater - Calm Down
Tony Anthem & Axl Ender - Foxy Lady
Lee Mortimer & Foamo - It's Going Down
Figure - Aura (Original)
Rockwell D - Tempo Critical
The Yank - We Can't Be Stopped (ZC re-edit)
Hijack - Party People (Bootleg Mix)
Mike Hulme - 100mg (The Loops of Fury Mix)
Laidback Luke & A-Track - Shake it Down (ZC re-edit)
RQM - Barely Evil (Bass Weazel Dub)
Shab Ruffcut - Little Lady Lou Lou (Tom EQ Mix)
Boltan - Creepy (Mighty Fools Mix)
Haggstrom & Casswell - Room is Spinning Quickly
Zodiac Cartel - We Don't Play That (Aniki Mix)
Zodiac Cartel - Sweet Control
Bill Eff - Trouserflap (Will Bailey Mix)
Detboi - Y'all Want More (Sinden Mix)
TC - Where's My Money (Caspa Mix) (Elite Force Re-Fix)
Grab it
HERE!!!
Zodiac Cartel
Myspace!
Zodiac Cartel
Website!