Wild Rumpus - "Exclusive" interview and album review!!!
Gary Lucas (guitarist Captain Beefheart) and Colleen 'Cosmo' Murphy (Classic Album Sundays/Bitches Brew) have released their debut album 'Musical Blaze Up'. It features an eclectic array of collaborations with some of today's most interesting artists including, Beardyman, Lampchop frontman Kurt Wagner, KLF/Mad Professor, multi-instrumentalist Black Steel, Bristolian Queen of visceral country-punk and rockabilly Emily Breeze, Mr. Hermano/Sao Benitez, drummer/percussionist Ben Mitchell and MC Brother Culture of Manasseh Hi-Fi and Asian Dub Foundation.
The album is an amazing mix of psychedelica, reggae, rock, country, electronica, blues, house, surf, dub, disco and so much more. From the first moments of the quirky 'Rock The Joint' featuring Beardyman to the Moroder influenced 'Cloudhopper' (which clocks in at over 11 minutes) to the disco surf sound of 'Purple Somersault', the album takes you on a fantastic journey that demands the listener hit play again as soon as the album ends. If you ever need an instant party album, this is it.
I'm not lying when I say this has not left my car stereo for weeks. I know this will be in my top ten for album of the year...it just remains to see if it will be number 1 by years end. As of now, it is.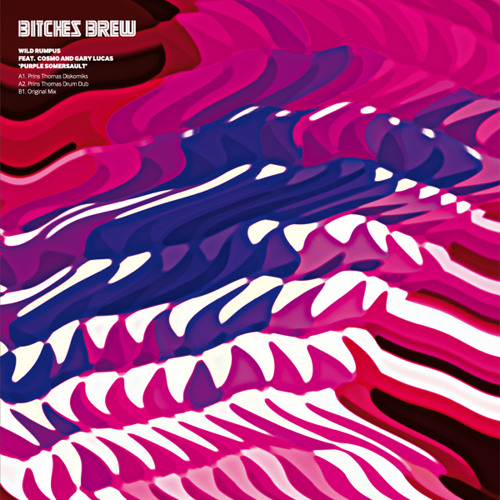 After enjoying such a great album it was a real treat that I was lucky enough to get to interview them.
How did you two end up working together? Mutual appreciation society or random chance encounter?
Gary: Well I have known Colleen Murphy since hanging out at WNYU FM back in the mid 80's where she had a regular slot on their alternative rock program called The New Afternoon show. Colleen was a student at NYU then, and we became friends--and I believe I played acoustic guitar a few times on her program. In the mid 90's she had totally gotten into dance music and dj'ing and one day asked me to appear at some midnight events she was throwing weekly in the Meat Market District here on 14th St. in Manhattan with a couple of cool dj friends of hers, Adam Goldstone and Perry Brandston a/k/a The Departure Lounge Crew. The 3 of them would throw down beats and sometimes old rare groove tracks at me and I would improvise along to their grooves electronically while they mixed me into the groove. In 2001 I had a show at Royal Festival Hall solo on a bill with Faust during the Mind Your Head Festival, and Colleen sought me out in the Green Room backstage. She had subsequently gotten married and moved to London and was dj'ing all over the world. She told me about new Bitches Brew label and how we really ought to cut some tracks together, which I thought was an excellent idea! It still took a few years to get going, but that is how Wild Rumpus was born.
Gary, Since you've been in the biz for a while...What are the most notable pros and cons when working in the studio in the 90s verses current recording techniques? Was it more of a wild west then or has technology now allowed for more "wow, I didn't know we could do that" moments?
Gary: That's a good question. Vis a vis dance music, I recall a session I organized for Arthur Russell with the mad mixer Walter Gibbons for a version of what was to come out as his first single on Upside/Logarhythm and Rough Trade Records in the UK simultaneously, a song called "Lets Go Swimming". Back then Water would just print what sounded like random mix experiments of various sections of the track onto quarter inch tape and cut them up and rearrange the magnetic tape strips of various sections of the song like macrame. I don't think he even paid too much attention to labeling these various strip sections, they just hung there off all the gear in the control room. and just combined sections on the fly, as his moods took him over the course of a very long night, seemingly totally at random. By splicing let's say one section of a breakdown section of the song next to a wildly attenuated mix of the chorus section and so on all sorts of fantastic colors and textures would emerge through this juxtaposition, or guerrilla collage action-- and the final mix was so psychedelic and inspired you had to wonder if there was any real method to his mix madness other than a William Burroughs-like cut-up approach of placing seemingly random elements next to each other to form a new and satisfying whole. Today of course, as everything can be tweaked and recombined electronically, you get some amazing effects sonically of course, but somehow the whole technological process has become almost too apparent to me, and subsequently less inspired. I prefer the old hand's on/kitchen sink approach, what you have termed the "wild west" approach. Sometimes less (in terms of available studio technologies available to utilize in a mix down) turns out to be a whole lot more.
'
Besides your guitar work you have a very diverse musical past...how much of that helped you in making this album?
Gary: Oh I think it helped a lot, as I am totally open to all sorts of music, as long as it swings, or has a heart and a soul to it. Much of the music today has no heart at all, or at least it doesn't beat along with mine. It just sounds so freeze-dried and manicured, everything seems to come out of a cookie cutter/ or an assembly-line of supposed master chefs who "know" what it is the public wants, and serves it up to them with a nod and a wink. It's so phony sounding that my ear automatically recoils and closes down when I hear this kind of production, and my gag reflex goes into over-drive.
Colleen, how much did your background as a DJ help with the production of the album?
Colleen:
I think it reflects both my background as a club DJ on the more dance-oriented tracks and as a radio DJ on the more eclectic tracks. For my radio shows and DJ sets I try to program them so that the listener starts in one place and then organically ends up in another place. I sequenced the album in the same way and call it a sonic road trip.
How much of the album is pure experimentation? How much input did some of your collaborators like Mad Professor and Kurt Wagner have on the album? Did you just tell them what you needed or did you let them surprise you?
Colleen: Each song is different. For some of them I had a very clear idea of what I wanted. When I got in Black Culture (Mad Professor's Musical Director) for "Musical Blaze-Up", I played the kind of bass line that I wanted him to play and expected him to do something different but he didn't! However, he made it sound a lot better on his six-string bass than I did on the keys. For "Kazan" and "Purple Somersault" I wrote much of it on the keys at home. Other songs like "Cloudhopping" and "El Duende" came from ideas that Gary had so I recorded him jamming and then worked out how to make it into a song. For the songs with lyrics, I didn't know what the singer was going to do but gave them freedom. I absolute LOVE Kurt Wagner's contribution and still laugh every time I hear it. He sent over so much great stuff that I had to do a psychedelic headphone mix where it is almost like an overlapped conversation.
Both of you have a extensive musical background...What were your influences when making this album?
Gary: I think I just drew on my whole range of guitar sounds and styles. Colleen encourage me to let it all hang out, as it were. Basically, everything was permitted, and encouraged! Psychedelic rock, blues, jazz, country finger-picking--they all went into the mix.
Colleen: Working with one of the best guitarists in the universe definitely helped! Gary play anything on the guitar. For myself, I have been working in the music business (whether on the radio from the age of 14, record shops, record labels, DJ-ing) that I naturally have a wide appreciation of all forms of music. Albums that sound like the acoustic representation of a straight line bore me.
Who are some of your contemporaries that you think are doing amazing things musically?
Gary: The best singer I heard in the last several years is sadly gone now, a woman named Lhasa de Sela. Fantastic voice and songs. An experimental band from Hungary I've been working with named DeBORT, plus a traditional singer named Eniko Szabo from Budapest are both outstanding. The score for the Scarlett Johansen sci-fi film "Under the Skin" really gave me, uh goosebumps. A young synth whiz from Prague, Ales Vejnar, coaxes fantastic sounds out of old analog synth gear. Peter Hammill, with whom I collaborated recently, always does amazing music, and I think our recent collaboration "Otherworld" is something fairly new under the sun, in all modesty.
Colleen: On the dance side of things, I am loving Carabou (also known as Daphne), Ame and Henrik Schwarz from Innervisions and Floating Points.
How did you get involved with Beardyman and did he add to the album as a whole in any surprising and unforeseen ways?
Colleen: My husband manages Beardyman and I turned him onto Captain Beefheart (and Frank Zappa and many other weirdos as if he really needed to be pushed more into that direction). For "Rock the Joint" I really wanted a gruff sounding bluesy voice and like Gary on the guitar, Beardy can do anything on the vocal chords. We had a great time and he was such a pleasure to work with and great in the video, too.
I know you did a remix EP with several creative and exciting remixers...Any thoughts to doing a remix album? I can already imagine what Norman Cook or Andrew Weatherall could add to your already wildly addictive tunes.
Colleen: That would be interesting and in fact, Andrew and I talked about him doing a remix but we just couldn't get dates to coincide. I think he would be brilliant as he is one of the only other DJs aside from myself who would think it natural to combine dub and country!
Will there be any touring to support the album? If so...Worldwide tour or just European? Doing any festival appearances or shows like Later...With Jools Holland? Where will my readers be able to get there Wild Rumpus fix?
Gary: We have to see if conditions are favorable "on the ground" as it were first in order to be able to play out. Gee I hope so!
Colleen: Me, too!
Will we see more of Wild Rumpus or is this more of a one off collaboration? Seriously, I need to know because I can't get enough of this album and I want MORE! :)
Gary: It would be a beautiful thing indeed, and I for one vote yes. Thanks for all your enthusiastic support!
Colleen: It would be great. It took us so long to get this one off the ground so hopefully I can move it along a lot more quickly!
Here is a sample of the brilliance that is Wild Rumpus!
HIGHLY RECOMMENDED!!!
BUY IT HERE!!!
https://soundcloud.com/wildrumpusmusic
http://www.bitchesbrewmusic.com/wildrumpus.html
http://www.garylucas.com/wild_print.php